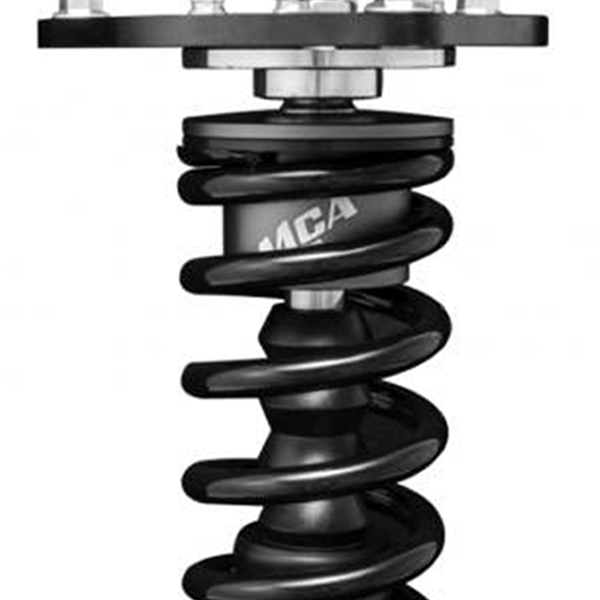 MCA Street Ultimate Coilover Kit Evo X
Description:
When complete customisation and street application specificity is a must, the Ultimate Series is the answer. With custom valving, camber washers, your choice of springs and dyno tuning included, the perfect blend of performance and comfort can be achieved for any street application.
With features like top quality NMB uniballs (pillowballs), short and pliable bumpstops, adjustable shock lengths preset by MCA Suspension, strong design and valving chosen by MCA Suspension, you're sure to have an enjoyable and stress free aftermarket suspension experience.
NEW FUSION VALVING
Over the past 6 months MCA have been working on a new valving that is now refered to as "Fusion Valving". It was given this name due to it's ability to blend comfort and performance together even better than we have been able to achieve to date. The outright performance potential of this valving style compared to previous/current styles is similar if not marginally better, however it creates significant improvements in stability, bump handling and comfort without compromising performance. This creates the added bonus of increased versatility for the damper adjustments and each setting is now very useable all the way down to full soft. It's perfect for either sporty or high performance road and track cars that still require acceptable compliance and ride quality.
HOW DOES MCA SUSPENSION COME UP WITH THEIR SUGGESTED SETUPS?
Firstly we start off with a relatively standard car and weigh it on all four corners. Then the amount of travel we want is decided on, this includes bump and droop travel. Then the shocks are valved according to what we think is correct. Once valved the shocks are dyno tested to make sure we are happy with the graphs and to check adjustments. At this stage we also decide where the adjuster should be set. Then the shocks are assembled but without bumpstops and springs then fit them to the car.
Then by adjusting the position of the base (bottom mount) we work out the closed length by jacking up the suspension assembly with and without tyre to make sure everything is clearing everything, but using as much travel as possible. After that we drop the shock down from full bump the amount required to achieve our desired amount of bump travel from ride height. Then we take measurements of the shock at it's full bump length, its ride height lengths and full droop length. The shocks are removed and reassembled with springs and bumpstops ready for final fitment.
Using some maths we are able to move the spring seat into the correct position to achieve our desired ride height so there's less fiddling once the shocks are on the car. After they are fitted to the car, we drop the car down onto the ground and check the heights to make sure they are as they should be. After that we need to check arm angles and roll axis to make sure that we are happy with this area, or to fine tune the ride heights to achieve the a good setup.
The vehicle is then driven on a bumpy road to make sure the track setup isn't too unlivable as a daily setup. If it is, steps are taken to try and fix this, but in doing so we make sure to never reduce the outright performance. Then it's time to take it to the track and test our setup properly. Generally all that's needed is small adjustments to the roll axis and adjusters are made to find the ideal setup.
The car is then taken back to the workshop and final measurements are taken from the car so that it can be duplicated easily on the next set of suspension we put together for that model vehicle. Then we are ready to offer this suspension set at our suggested setup to the public.
Optional Extras:
Add the following items to cart to add options to you MCA Coilover purchase:
Stealth Option: Removes any colouring from your MCA Coilovers for that stealth black factory look.
Damper Extenders: Adds a pair of damper extenders to your order for remote damper adjustment.