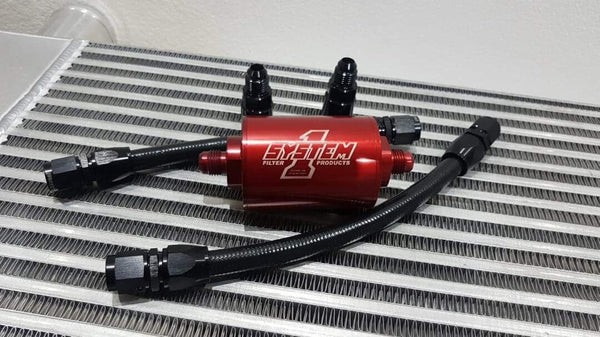 RP MOTORSPORTS SYSTEMS 1 MITSUBISHI EVO X/RALLIART
Description:
RPM Evo X System 1 Inline Fuel Filter kit
Drop in fuel pump options are available for the Evo X and Ralliart platforms, but flow rate is currently limited to 265lph. Enthusiasts that require more fuel will need to invest in higher flowing (320lph, 400lph, etc.) fuel pumps that are currently only available in the common "Walbro 255" form factor. Due to size differences an adaptor is required for installation of these fuel pumps that eliminates the factory in tank fuel filter as a byproduct.
The RP customs System 1 inline fuel filter kit was developed as a solution to protect your fuel injectors from debris and potentially even save your engine from a clogged fuel injector. Located between the hard factory feed line and the fuel rail installation couldn't be simpler with the push-on EFI adapter fittings. The compact systems 1 fuel filter features a 40 micron stainless steel element that is compatible with both pump gas and E85, and flows enough to support nearly 500lph.