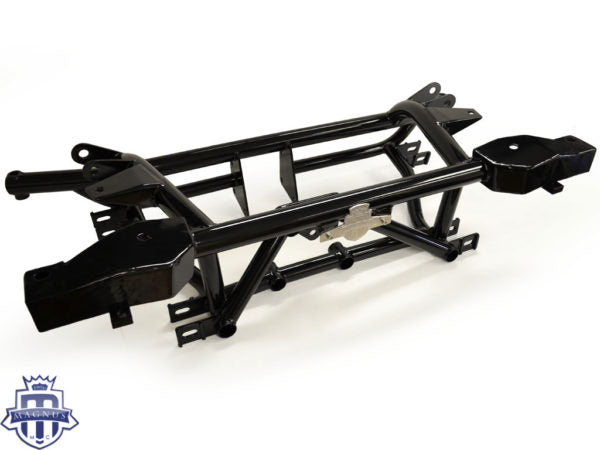 MAGNUS LIGHTWEIGHT CHROMEMOLY EVO X REAR SUBFRAME
Description:
Increase torsional stiffness with the Magnus Lightweight Chromemoly EVO X Rear subframe. Torsional stiffness is not the only benefit with our subframe, our subframe positively mounts the rear differential for unparalleled chassis stiffness in the rear of your car and saves weight with our subframe weighing it at only 30 lbs (14 kg). Removes all of the rubber mounts from the rear end housing for a 100 percent true location of the rear end. These units are custom built applications and are built for AYC Diff or for RS mechanical LSD style Ralliart/EVO8 differential.
---
Benefits
Does not allow any rear end movement to help keep the differential aligned in the correct location for acceleration, deceleration and cornering.
Helps stop axle and driveshaft misalignment.
Weight savings is 17 lbs (7.5 kg) on this unit.
Increase torsional stiffness.
Used in Road Race, Drag race, Hillclimb, & Rally. Extra special features custom for your race program made at your request for extra charge.
Features:
Sway bar mounting points for factory sway bar mounts included.
Positively locates rear differential to help stop axle breakage and annoying thump on shifts.
Can be ordered for AYC rear end or Mechanical LSD rear end.
---
Applications
---
Options
---
Part # MMCSUP1006