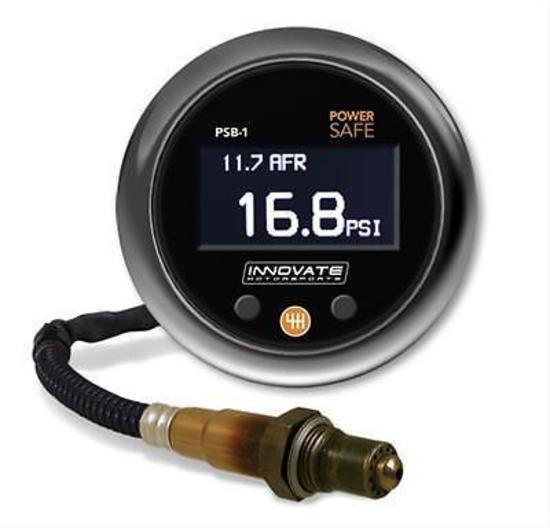 INNOVATE MOTORSPORTS PSB-1 DIGITAL 2-1/16" POWERSAFE BOOST & AFR GAUGE
Description:
INNOVATE MOTORSPORTS IM3892 PSB-1 DIGITAL 2-1/16" POWERSAFE BOOST & AFR GAUGE
PSB-1: PowerSafe Boost & Air/Fuel Ratio Gauge Kit
- includes the PSB-1 gauge, LSU 4.9 Wideband oxygen O² sensor, 8 ft sensor cable, 4-Bar MAP Sensor, Relay, O² sensor weld-on bung, Black/Silver bezel, Black/White faceplate, Serial program cable, & Installation manual.The PowerSafe gauges combine our patented DirectDigital™ O² sensor control technology with application specific sensors, an OLED display, and a smart safety override circuit for your high performance vehicle. Our PowerSafe technology can disable your factory or aftermarket boost control solenoid forcing the system to spring pressure. In nitrous applications, our PowerSafe technology will disable your nitrous solenoid to keep your engine safe. The PowerSafe gauges offer the looks, safety and performance enthusiast's demand!
Features :
All-in-one, boost saftey override and wideband air/fuel ratio gauge
52mm (2 1/6") diameter gauge body
Interchangeable faceplates and bezels: Black and silver bezel, black and white faceplates included
No PC required for configuration
OLED user configurable display
Boost, shift light, Air/Fuel ratio
AFR or Lambda, inHG, PSI, kPa, or BAR
4 BAR map sensor, pressure range -29 inHG to 43.5 PSI (-1 to 3 BAR)
User programmable boost cut safety using Air/Fuel and Pressure references
Boost cut by pressure
Boost cut by lean air/fuel condition
Valet mode that will temporarilty hold the system at spring pressure
Peak hold function
Patented DirectDigital™ wideband sensor control, the only 100% digital wideband air/fuel ratio technology!
Wideband O² Compatible with several fuel types (Leaded, Unleaded, Diesel, E85 & more)
Ability to calibrate O² sensor for maximum accuracy
Configurable linear 0-5v analog output for wideband O² for use with piggy back or stand alone ECU's as well as external data loggers
30A Relay included
Innovate MTS serial in/out (for use with other Innovate & 3rd party MTS enabled devices to add additional logging channels)
3 channels of log-able data with powerful LogWorks PC Software (MAP, RPM, A/F)
Specs:
Gauge Style: Innovate digital
Gauge Series: Digital
Gauge Type: Air/Fuel Ratio/Boost/Vacuum
Gauge Range: -1-3 bar
Shape: Round
Gauge Size (in): 2 1/16 in. diameter
Gauge Size (mm): 52.00mm diameter
Sweep: Digital numeric
Sending Uni Electrical
Gauge Face Color: Black/White
Gauge Number Color: White
Bezel Finish: Black/Silver
OEM Replacemen No
Sending Unit Included: Yes
Quantity: Sold as a kit.