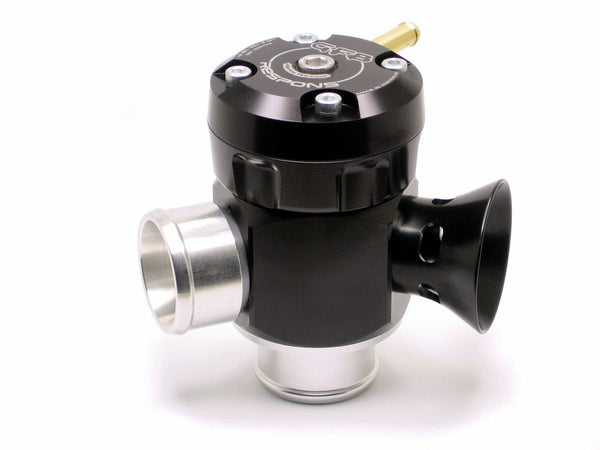 GFB RESPONSE BLOW OFF VALVE MITSUBISHI EVO 7 8 9 10
Description:
FITS MITSUBISHI EVO 7,8,9,10
Respons TMS T9033 adjustable bias venting diverter valve- BOV
The Go Fast Bits Respons blow-off/bypass valve system for Mitsubishi is much more than simply a noise maker or a factory valve replacement. The Go Fast Bits Respons valve features the GFB Turbo Management System (TMS), designed specifically for the purpose of turbo lag reduction. Go Fast Bits in-house testing facilities have measured a return to peak boost up to 30% faster between shifts than most factory systems, giving you quicker on-off boost response and faster effective acceleration potential. The Go Fast Bits Response bypass valve features their patented adjustable venting system, allowing you to adjust the sound and vent volume on your valve like a stereo volume control. Vent or recirculate your boost and turn up or down your Respons volume as you see fit! The unique Respons adjustability allows you to fine tune your turbo system for better drivability while still getting the traditional atmosphere venting noise. Leave those little noise makers behind and upgrade to a system tunable to your vehicle without triggering that dreaded check engine light and compromising daily drivability. Please note that some modification to the factory hoses is required for installation. This is a direct factory replacement kit that includes everything you need for a complete install with no cutting or further modification to your vehicle.
Features:
Advanced TMS benefits
Spring pre-load adjustment for max. response
Available as universal or direct-fit kit

Venting configurations:
– Full progressive bias adjustment from recirc (silent) to atmosphere (loud)
– Bias adjustment done manually via cap ring
– Can be locked off in full recirc mode for legality purposes
Best choice for:
Quick and easy venting bias adjustment
A chieving noise on a car that is sensitive to atmosphere venting e.g. VAG applications