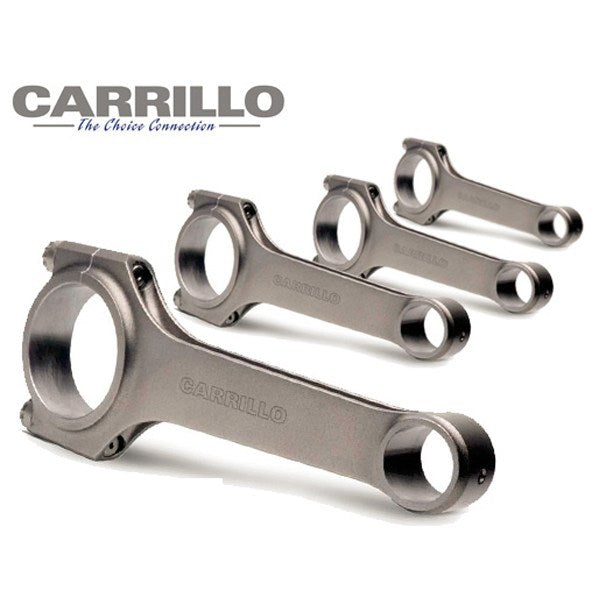 Carrillo Pro-H Beam Connecting Rods Evo X (WMC BOLT)
Description:
Carrillo is acknowledged as the world leader in connecting rods. Thorough research and development of individual engine applications take into account the engine's architecture and the loads it will see. You will see no "one size fits all" forgings, which ultimately add reciprocating weight and stress to the engine. Although other companies have copied the look of a Carrillo Rod, it's the metallurgy that ultimately determines the strength of the connecting rod.
Carrillo uses proprietary chrome, nickel, moly vanadium alloys purchased in lots of 100 metric tons. This is a custom designed material meeting all vacuum arc re-melt ASTM standards. The heat is validated, both by the supplier and an independent metallurgist to confirm the physical and chemical properties of steel. All heat treat processes are via a mar-aged operation resulting in UTS of 195,000 and a yield of 182,000 while maintaining the critical element of low notch-sensitivity and ductility. All critical CNC machines at Carrillo or equipped with probing to accurately validate dimensional integrity. Each part is magnafluxed at least twice and Rockwell tested to validate the heat treat.
A final 200% shot-peen operation completes the part. Rod bolts are jointly designed by SPS and Carrillo. H11 tool steel w/220,000 UTS as well as Multi-phase™ 285,000 UTS are the materials used. Each fastener employs a patented thread design as well as the highest dimensional integrity in the industry. Each lot is sample tested destructively as well for UTS and Fatigue.
This is the WMC bolt variant
Rod Specifications:
– Bolt Size: 3/8″
– Length: 5.906″ (150mm)
– Big End Bore: 1.890″ (47.998mm)
– Pin Diameter: .866″ (22mm)
– Total Weight (in grams): WMC Bolt = 566
– Rotating Weight (in grams): WMC Bolt = 393
– Reciprocating Weight (in grams): WMC Bolt = 173